Registration is open for Wild About Yoga in September- it's FREE- sign up today!
Hello friends, happy Wednesday.
It's hump day- we're halfway to the weekend. But, my little ones are on Day 2 of the new school year. There's still a bit of spring in their step. Their bookbags & lunch boxes are still brand new and they have a pretty good attitude about the whole thing. I hope it lasts as long as possible.
So, I figured that today's What I Ate Wednesday should be about the contents
of those pretty lunch boxes.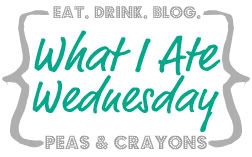 Katie & Mandy don't really like to buy their lunches at school.
They say that waiting in line takes too long & they're just not crazy about the food.
I say that they are spoiled by a mama who makes their lunches to order.
Let's begin with Katie, shall we?
This girls loves to eat and eat well. She likes trying new foods. She's been turning her nose up at the kiddie menu in restaurants for several years now.
So, her 1st Day of School lunch included a tuna sandwich featuring these ingredients.
She uses safflower mayo because dairy is not always friendly to her.
If you've given up dairy you might want to try it- Katie swears it tastes great!
She also takes a baggie full of bell pepper slices...
...and these veggie straws.
So that's Katie's current favorite lunch!
Ok, now it's Mandy's turn!
This girl is a little harder to feed. I don't want to say she's a picky eater, but...
She wanted a standard peanut butter sandwich & an apple in her lunchbox.
I added some goldfish crackers and a bottle of water...
...and that's a lunch she'll eat.
At home we work on trying new foods and she's getting better about it.
But when she goes to school, I stick with safe things that I'm sure she'll consume.
What do your kids like for lunch?