Hello friends!
I hope you're having a lovely week.
We are attempting to cram quite a bit of fun into the last week before school starts
and summer vacation ends.
Last night we took Ruger to "Bow-Wow Hour" at our new friend Tammy's house.
Tammy is the Therapy Dog Evaluator in our area.
She hosts a twice-per-month meet & greet for dogs.
There were 15 or 20 dogs there (it's hard to count, they're all moving all the time and some of them look alike so we may have counted them twice). They had a great time trying to figure out how to make new friends and not offend anyone.
Truly, people should make friends as quickly and simply as dogs do.
Life would be easier.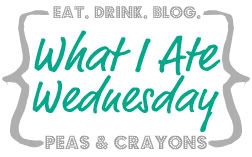 This week I started another 28-day cycle of
The Fast Metabolism Diet
!
Monday & Tuesday are Phase 1, so I thought I'd spend this What I Ate Wednesday
showing you what an entire day of Phase 1 looks like.
Breakfast is Strawberry French Toast made with egg whites and Ezekiel Bread.
A nice apple makes my morning snack...
...while turkey chili and a clementine make a satisfying lunch.
My afternoon snack was another clementine but I didn't think you needed two pictures, did you?
A Phase One dinner includes grilled chicken, sweet potato fries (baked, with no oil),
pepper slices and Ezekiel bread.
I'm also drinking loads & loads of water!
Haylie Pomroy, author of The Fast Metabolism Diet says that DIET should stand for "Did I Eat Today?" and I think this post proves that. This "diet" is not about deprivation or hunger. I eat all the time and enjoy it all.
What are you eating this week?