Happy What I Ate Wednesday!
This week has been a fun one for us.
Ken & the girls spent some time trying to catch our dinner.
I took a long walk on beautiful Presque Isle...
...with this happy guy for company.
They only caught a few tiny fish, so those guys were thrown back to swim another day.
We went back home & grilled up some kabobs for dinner instead.
I bake the sweet potato fries in the oven with just a little olive oil and chili powder.
I really think I need one of those old-fashioned french fry cutters...
I think I'd be happier if my sweet potato fries were prettier.
This week I'm working the Fast Metabolism Diet phases which means sugar is off-limits for me. This was not made easy when these three little cuties decided to start baking in my kitchen.
Friends, I can't describe how great it smelled in here.
I've been following my long run & more intense workouts (hello,
Ultimate Yogi
)
with a small protein shake made with almond milk, protein powder & berries.
Ok, there was more in this cup...
I drank some before I remembered that I wanted to tell you about it & I needed a picture.
If you click on the button below it will take you over to Peas & Crayons. Jenn is the orchestrator of all the What I Ate Wednesday fun. Her blog always makes me hungry.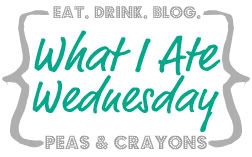 What are you eating this week?