Good morning Wednesday! We're back to talking food- one of my favorite subjects.
You know you want to win the fancy calf sleeves so we can be twins.
The fantastic women in my 31 Days of Yoga group are talking food today too. Specifically, we're talking about thinking before we eat.
Yoga often leads people to begin paying attention to their diets.
A yoga practice requires your attention. My children are always surprised when mommy, who is normally so chatty on a run, gets very quiet during yoga. I can't really chat while making sure that my hips are aligned and keeping my balance. If I tried to hold up my end of a conversation I'd probably end up on my face more often!
So, once you spend time on the mat being aware of your body and it's movements, doesn't it follow that you might become more aware of what you're putting into that body?
Today I'm issuing a little challenge. Before you put something in your mouth
take just a moment and ask yourself,
"Is this really the solution to my problem?"

.
If your problem is that you're hungry, the answer will be YES- eat up!
But if your problem is thirst, stress or boredom- you need a different solution.
Today let's practice mindfulness on our yoga mats and in our kitchens.
By the way, #31DaysofYoga t-shirts are available HERE for only $16. They only print if 20 are ordered and you only pay if they print. Wear your commitment with pride!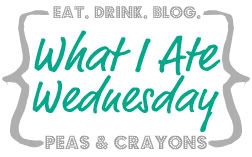 This week I'm loading up on veggies- I've already made my way through much of this...
And I've been loving snack-sized smoothies after my runs & yoga.
Yesterday I made a little smoothie with Triple Chocolate Protein Powder from 1st Step Pro-Wellness, almond milk, spinach & some of these mixed berries.
I dropped in a dalop of almond butter and it was like drinking dessert.
There's just no reason that healthy eating shouldn't taste great.
And chocolate-y. :)
So, what else would you throw into my little smoothies?
Give me some ideas here!