Happy What I Ate Wednesday everyone!
So far, this week has just been about reigning myself in food-wise.
Thanksgiving
was delicious and included many goodies. Now it's time to get things under control just a bit.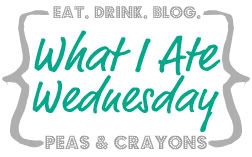 This morning began with my
favorite smoothie
. It's really my go-to breakfast and includes two servings of fruit. I've been working to get more fruits & veggies into my diet per the
HBBC
.
I made Mandy another waffle, peanut butter & banana sandwich.
This breakfast arrangement is a win-win.
I use half a banana in my smoothie & she gets the other half in her sandwich.
My lunch on Tuesday included an egg, bacon & tomato slices.
For an afternoon snack I had a rice pop with natural peanut butter and some strawberries.
Then for dinner I made this Zippy Ham & Cheese Dip...
One package neufchatel cheese, a handful of chopped ham, a handful of shredded cheddar and a generous sprinkling of chili powder. Combine all the ingredients and back at 400 degrees for about 15 minutes or until the edges begin to brown.
We enjoy this dip on baked zucchini slices. I bread them with panko bread crumbs...
...and put a little bit of dip on each.
I also had a salad and a piece of tilapia, but they weren't that exciting to photograph.
I've also continued to incorporate Apple Cider Vinegar into my diet this week.
I am loving what it's doing for my digestion friends, but I think I'll talk about that in a separate post. There are just too many things to say on this topic.
By the way, I never got around to a blog post yesterday but I did do a Fit Tip Tuesday video.
I think it's a really important message for this time of year so I'm including it here.
This is your assignment for the day!
Now, click on these links so that we can chat some more...