This is our first What I Ate Wednesday post. Click on the pic below for information on your own WIAW post!
As I'm re-evaluating
my eating
habits this week, I thought it would be a perfect time to jump in.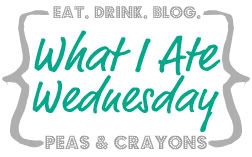 Breakfast was my favorite smoothie. Banana, soy milk, vanilla protein powder and just enough natural peanut butter to make it taste almost like dessert.
Lunch #1 was in my cute little dish. Rotisserie Chicken, Flatout with PB & strawberries. I didn't eat the cherry tomatoes after all- they were a little too ripe.
Lunch #2 was a shake from GNC. I just discovered these & they are delicious! No chalky texture like some protein shakes.
Dinner yesterday was salmon & asparagus. (No I didn't eat both pieces- one was for Katie)
Katie also had a baked potato with hers. It was already a pretty meal but I did a little Instagram on it for you anyway.
Mandy's contribution to WIAW is her love for Pirate's Booty.
Enjoy your dinner everyone!